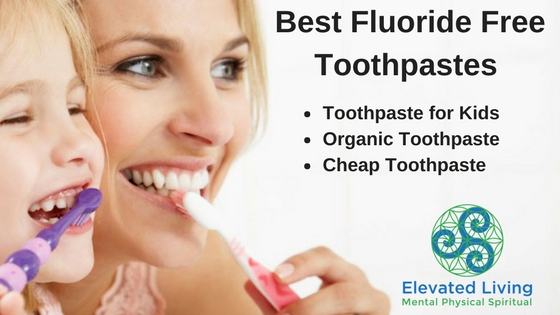 Hopefully by now, you have discovered that there are harmful toxins in many name brand toothpastes. The main toxin to be worried about is Fluoride(Learn more about fluoride here), but there are also toxins such as Sodium Lauryl Sulfate, Artificial flavors and colors, Propylene Glycol, Triclosan and more, depending on the brand of toothpaste. Fluoride is considered a poison and most toothpaste containers will have a poison warning label stating that if you swallow more than a pea size of toothpaste to get immediate help.
There is now hard evidence showing that fluoride in fact doesn't help prevent cavities as stated and is actually causing greater health problems over time. Fluoride is also in over 70% of drinking water, most foods and we are showering in it. Literally everything we consume has fluoride in it now.
Check out these easy tips to completely remove fluoride from your body ( You will be amazed by the results )
Why should you use fluoride free toothpaste?
Using a good organic, fluoride free toothpaste is an important step in removing fluoride from your body and preventing further damage from this toxin. As time goes on, more and more people are starting to realize the dangers of fluoride and taking the necessary steps to removing it from their water and toothpaste. In fact, there are entire websites dedicated to alerting people about fluoride and giving them the knowledge to take action against it.
It is very important to switch your toothpaste immediately, because fluoride is most concentrated in toothpaste and there is now studies showing that the layer of fluoride applied to your teeth from toothpaste is 1/10,000 of the width of a strand of hair and is instantly removed from any chewing. You can safely assume that more fluoride is collecting in your body, than on your teeth. There is absolutely no reason to have fluoride in your toothpaste and I highly recommend you switch your family over to fluoride free as soon as possible.

The harmful effects of fluoride
There are many short and long term health effects from consuming fluoride and it has long been known to be a very toxic substance. This is why some pesticides will contain fluoride to kill small rodents and insects. This is also why the FDA requires that all toothpaste containing fluoride to have a poison warning label instructing to seek out medical help if swallowed.
One of the long term threats of fluoride is a painful bone disease called skeletal fluorosis. Fluoride exposure is also linked to other diseases such as arthritis, bone fragility, bone and bladder cancer, thyroid disease, gastrointestinal diseases(IBS, crohns, etc) and cardiovascular disease. These are all life threatening ailments that you want to avoid at all costs. Switching your family over to fluoride free toothpaste will only cost you a few bucks compared to the thousands you will spend on health care from problems caused by fluoride.
Fluoride is also known to cause many short term side effects such as brain fog, digestive issues, headaches, reduced energy and much more.
Infants, those with nutrient deficiencies and kidney disease are more susceptible to harmful effects of fluoride and should take the extra steps to completely remove it from their body.
Learn more about fluoride with this list of top fluoride documentaries
Best Fluoride Free Toothpastes
The best toothpaste to use is going to be a toothpaste that is free of fluoride and other toxins, as well as being organic. Although, this is the best route to go, any toothpaste that is fluoride free will suffice and be 100 times better for you than your current fluoride toothpaste. Listed below is our top fluoride free toothpaste picks based on the categories of Oganic, Cheap and for Kids. With over 10 choices, there should be no problem finding a fluoride free toothpaste replacement.
Quick links(all fluoride free!):
Toothpaste for Kids
Organic Toothpaste
Cheap Toothpaste
My top picks:
1. Himalaya Neem
2. Dr Bronners
3. Nature's Gate
---
Fluoride Free Toothpaste for Kids
Kids are extra susceptible to the side effects of fluoride, so it's very important to make sure your kid's toothpaste is free of these toxins. Luckily, there are many great options to choose from and your children will still have a beautiful, cavity free smile. Below is our top picks for kid's toothpaste.
---
Tom's of Maine Toddlers Fluoride-Free Natural Toothpaste in Gel
The toddler's version of Tom's fluoride free toothpaste. This toothpaste is all natural and free of fluoride, SLS and gluten. It also doesn't contain any artificial flavors, colors or preservatives. Designed for teaching your toddler how to brush their teeth. Your toddlers are extremely susceptible to the effects of harmful toxins and chemicals, so having an all natural toothpaste like this is ideal for teaching your toddler to brush.
Key features:
Gently cleans teeth and gums

Free of fluoride, SLS and gluten

Safe if swallowed

No artificial flavors, colors or preservatives

Mild fruit flavor in a gel formula

Reviews:
"I love this toothpaste, its perfect for my two year old, as she still swallows her toothpaste and therefor cannot have fluoride toothpaste yet. We've tried a few other brands (including versions with characters she recognizes and likes) but she did not like the taste of those. I do notice that this also takes away any bad breath."

 No Flouride….woohoo  By Youngblood
"Ordered these for our grandaughter.i choose not to flood her body with the chemical of flouride. as for the taste she loves it. always trying to eat more then she brushes with…lol"
---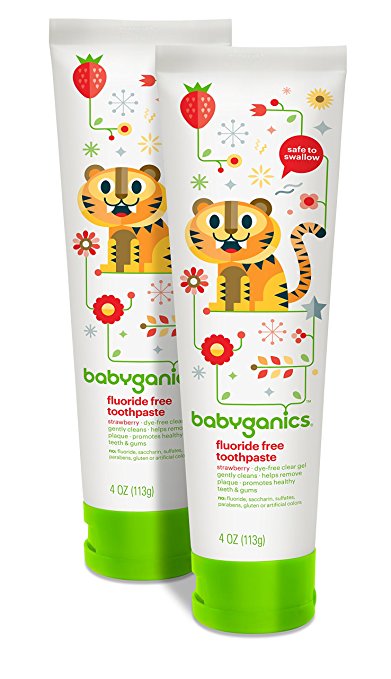 Babyganics Fluoride Free Toothpaste
This product is one of our top recommended fluoride free toothpastes for children. It's organic, made with natural plant-based products that are safe to swallow, doesn't contain any fluoride, sulfates or artificial flavoring or colors and more. This toothpaste comes at a very affordable price and is great for kids of all ages. With this product, you can rest assured that your kids are brushing with a healthy toothpaste.
You can get it here
Key features:
Natural plant-based ingredients that are safe to swallow

Gently cleans teeth with a dye-free gel

Promotes healthy teeth and gums

Effectively removes plaque

No: fluoride, saccharin, sulfates, parabens, or artificial colors

Never tested on animals

Reviews:

Fun, tasty, fluoride-free kids' toothpaste
on 
Flavor: Watermelon
"My kids adore this toothpaste! We get it on subscribe and save, so I don't need to worry about running out. Since with three kids, who brush their teeth like it's going out of style (I know, I should be grateful… lol!) we go through the stuff like water… hahahaha! All 3 of my kids love it, they are 8, 5, and 5… and that's saying something, since previous to finding this toothpaste we had 4 tubes of toothpaste going in the bathroom! I'll keep buying this until Amazon stops carrying it. (Please, Amazon, don't stop carrying it!!!!)"

Best brand for babies and toddlers
"This is the only toothpaste I will buy for my kids when they're under 4 years old. There's too much chance they will swallow some toothpaste and I want to be sure they're not going to get sick. The Babyganics brand is safe and high quality. I like that there's no fluoride, and it's xylitol based which is what our pediatric dentist recommended because "xylitol is added to some chewing gums and other oral care products to prevent tooth decay and dry mouth." We have ordered both the strawberry and watermelon flavors. My daughter (now 3.5 years old) loves them both."
---
Tom's of Maine Natural Children's Fluoride Free Toothpaste
This is Tom's all ages fluoride free toothpaste. With natural ingredients and free of toxins found in name brand toothpaste, you have peace of mind knowing your children aren't consuming toxins. This toothpaste comes in multiple flavors and can be bought in bulk for large savings. The great flavors Tom's offers will have your kids wanting to brush their teeth.
You can get it here
Key Features:
Silly Enough for Kids – Good Enough for Moms and Dads! Our Toothpaste for Children uses calcium and silica to gently clean, and the delicious real fruit flavor appeals to your child's taste – not artificial sparkles and bubble gum flavors

Helps Prevent Plaque Buildup With Regular Brushing

Gentle Cleaning

Great Taste

100% Natural

Reviews:

Kid approved, Mom approved, Dentist approved= LOVE IT!  
This toothpaste is a winner for kids! Fluoride free is what we were looking for and after a few less than favorable reviews from my kids on other choices this was received with excitement in our home. Our toothbrushing is now a time to look forward to and my kids love to brush as much as possible because the taste is great:) From a Mommy's point of view it cleans well too. I like the feel of this toothpaste as well as the results. It is simply made and works well. My children teeth are going on strong with no cavities 🙂

I like this toothpaste for my toddler since it's fluoride free  
I like this toothpaste for my toddler since it's fluoride free. I use just a tiny amount, but she likes the taste, so when she sucks on the toothbrush, it's good for peace of mind to know she isn't swallowing fluoride.
---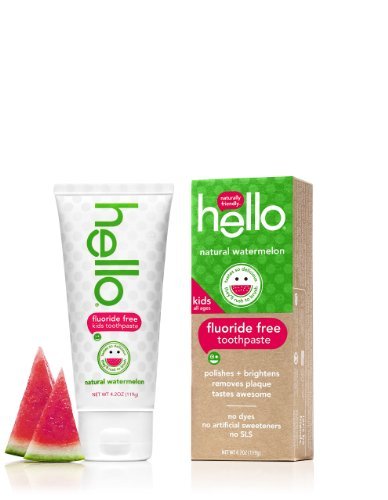 Hello Oral Care Kids Fluoride Free Toothpaste
This toothpaste is awesome and doesn't only have to be for kids! It's fluoride and SLS free and contains all natural ingredients with a tasty watermelon flavor. The ingredients are not only natural, but also top quality to ensure that you and your kids are getting their brushing in, without any of the toxins. Hello toothpaste comes in a 4 pack for huge savings.
Note: Make sure your Hello Toothpaste is labeled as Fluoride Free because they make regular Fluoride toothpaste as well!
You can get it here
Key Features:
say hello to naturally friendly fluoride free and sls free natural watermelon toothpaste. Polishes and brightens, removes plaque and tastes awesome.

hello has thoughtfully formulated hello with high quality ingredients like xylitol and erythritol, soothing aloe, and a silica blend that gently polishes teeth. no dyes, artificial sweeteners, sls, artificial flavors, microbeads, triclosan, parabens, and gluten. No brainer.

choose friendly! Plus, we're never tested on animals (Leaping Bunny Certified) and are made in the good ol' US of A. Brush and greet freely .

Reviews:

My kids are obsessed
Flavor: Watermelon
"My 4 year old twins love brushing with this toothpaste so much, they have started to ask me when they can brush their teeth next, multiple times a day. I love it because of the ingredients and a 4oz tube for the price was a good deal, especially with how obsessed my boys are with it. I will be buying this again."

My 3 year old loves it
"Got this for my 3 year old son (soon to be 4). After realizing we'd prefer a fluoride-free toothpaste for our kids, but especially the youngest one, I have been on a 3 year search for a toothpaste that tasted great but did not have SLS, artificial sweeteners, artificial food coloring, parabens, or fluoride. Most of the brands out there have standard flavors but they have one or more of the things I'm trying to avoid. I ordered this and it seems really good. I might be buying the bubble gum one for my 10 year old. She gets tired of the same old 'mint' flavors out there. Nice to have alternatives!"
---
Organic Fluoride Free Toothpaste
If you want the best possible toothpaste you can get for both health and quality, then organic, fluoride free is the way to go. Organic toothpaste is made with all natural ingredients and doesn't contain anything that can be harmful to your health. Organic toothpaste costs a couple dollars more per tube but if you want quality, then it's worth it. Below is our recommended organic toothpaste selection.

Himalaya Neem and Pomegranate Fluoride-Free Toothpaste
This is one of my personal favorites. Neem uses natural fruits such as pomegranate to add flavor and health benefits to it's toothpaste. Not only that, but it is made with natural ingredients and free of all harmful toxins such as Fluoride, SLS and they don't test their products on animals, like brand name companies you will find in target and walmart. This is one of the highest quality and best toothpastes I have found and you can get it online for only around $6. That's another dollar than I used to pay for colgate, but now I get better health, quality and taste!
Plus it's good to be supporting a smaller company that has good values. Remember that every time you make a purchase, you are also making a vote for that product and the world around you will be crafted by these decisions. So, why not live a happy and healthy life by using natural organic products that are trying to make a better world?
You can get it here
Key Features:
Neem is a traditionally used botanical to clean teeth.

Pomegranate is an astringent fruit extract, to soothe and tone.

Triphala is a combination of 3 fruits (Amla, Bibhitaki, and Haritaki), traditionally known to leave you with a healthy feeling

Xylitol from Birch is a tooth-friendly sweetener that helps to break down biofilms

NO Flouride, NO Saccharin, NO Sodium Lauryl Sulfate (SLS), NO animal testing

Reviews:

I love how it makes your teath and mouth feel after …
"The first fluoride free toothpaste that is comparable to the tooth paste on the market today. I love how it makes your teath and mouth feel after brushing,, that clean mouth fresh breath feeling.. highly recomend this product. It delivers"

Best Toothpaste Period
"I have used many toothpastes in the last two years. Trying to find a natural one that actually works. I used Toms brand before this one.
This is my toothpaste for now on. I used to feel no matter how much I brushed my teeth the toothpastes just weren't working. This one has brought my teeth back to life! My god. I have used Crest Whitening three times a day for six months and not got the results I get from this in just a month of using it. It contains all natural ingredients which makes me love it even more. This is the toothpaste I'll be using from here on out. Thanks for the wonderful natural product guys! I am going to have to try some of your other products now."
---
 
Desert Essence Natural Tea Tree Oil Toothpaste with Baking Soda
This is a unique toothpaste that contains the main ingredients of tea tree oil and baking soda. It is also fluoride free, SLS free and gluten free for those with gluten allergy. Desert Essence has over 1000 positive reviews and is a great option for those who enjoy tea tree oil.
You can get it here
Key Features:
Helps fight plaque naturally

Deep cleans teeth and gums without harsh abrasives

Leaves mouth feeling clean and refreshed

Reviews:

No better brand or product out there!
  Flavor: Wintergreen
"I have used this brand and type for @ 18 years; the tea tree oil is a natural antiseptic while promoting good healthy teeth. When I used to use regular toothpaste many many years ago, I was getting cavities all the time, until I switched to this brand and not only did it halt the decay already active so I did not lose the teeth for the caps have sufficed and it also has prevented any more cavities from forming. My gums used to bleed quite often and had real bad tartar buildup. It took almost 6 months of regular brushing with this to alleviate both of those problems as well as no longer having sensitive teeth 🙂 !!!! I have tried several other brands of organic and/or natural toothpastes just to see if there were others out there but I always have to come back to this brand and type."

Great Natural Toothpaste!
"I love this toothpaste! I will say, that the price is a bit high for a toothpaste, especially when you're used to paying $2-$4 for a tube of toothpaste. The ingredients in this toothpaste are considerably better than those in generic toothpastes. Tea Tree and Neem oil are wonderful antibacterial ingredients, and baking soda has good cleansing and whitening properties. The taste is strong, and definitely no where near as sweet as traditional toothpaste. After using this toothpaste, I'd say you won't be able to use traditional toothpaste again due to the sweetness. I've truly enjoyed using this toothpaste and the tube is a great size! My teeth feel clean and fresh. I, also, feel much better about using a product without the traditional harsh chemicals found in toothpastes. I do not want to put those chemicals in to my body, because they can lead to many health problems. This is truly a wonderful toothpaste made with great natural ingredients! Give it a try!"'
---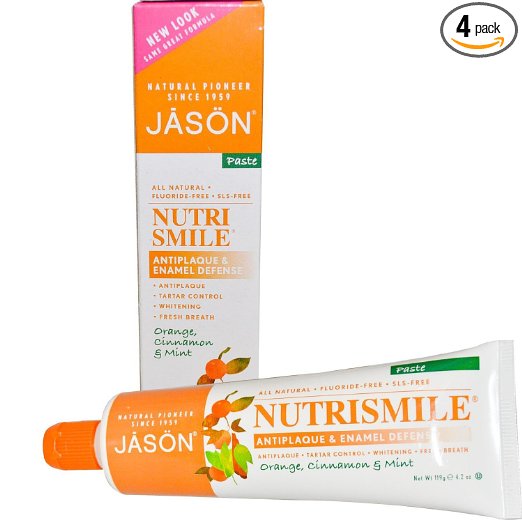 JASON NutriSmile Enamel Defense Anti-Cavity Toothpaste
Nutrismile by Jason is another natural toothpaste that doesn't contain any unwanted toxins or chemicals. Vitamin C is also added to strengthen tooth enamel and helping rebuild weak spots found on your teeth. This toothpaste comes in a pack of 4, averaging around $5 per tube, which is a great price for natural ingredient, fluoride free toothpaste.
You can get it here
Key Features:
Nourish your smile and defend your enamel, without irritating chemicals

Nutrient-rich, daily defense to keep your teeth and gums healthy and strong

Vitamin C works to strengthen tooth enamel by helping rebuild weak spots on your teeth

No sulfates, saccharin, propylene glycol, preservatives, colors or sweeteners

Reviews:

Thumbs Up 👍
"My girlfriend told me about this toothpaste a while back so I bought a tube and loved it as it is extremely refreshing and feels like a strong, lingering burst of peppermint in your mouth. Your teeth feel really clean. This was a good price on 4 tubes at about $5.25 per tube. I highly recommend this toothpaste as I also feel the ingredients are safer to use as opposed to most toothpastes out there."

Great Toothpaste, Really Does Give You Whiter Teeth
"We've been using this toothpaste for years. Every once in awhile I'll switch to something else to try it out as I'm always wanting to us the most natural and healthy products available for our family. Even though I feel that Earth Paste is better ingredient wise, I have to admit that my teeth just don't look nice and white when I use it, they get a dingy brown color. When I use this toothpaste, not only are my teeth nice and white, but I love the ultra strong peppermint fresh taste and it's still WAY better than one of the other main stream brands such a Colgate or Crest."
---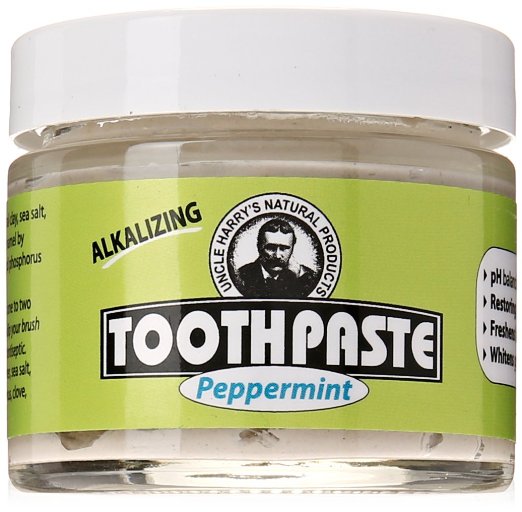 Uncle Harry's Fluoride Free Toothpaste with Alkaline
This toothpaste by Uncle Harry's is very unique and is the only toothpaste I have seen that is alkaline. Not only that, but it is gluten free, glycerin free and vegan, making this the perfect product for those who want a safe and effective toothpaste. This toothpaste is also unique in the sense that it comes in a jar instead of the conventional tube. Made with natural ingredients and made in USA.
You can get it here
Key Features:
1. Uncle Harry's Toothpaste refreshes the mouth with powerful mineral clay, sea salt, and pure plant essences.

2. It supports remineralization of tooth enamel and maintains a naturally alkaline pH.

3. Gluten Free, Glycerin Free, and Vegan.

4. Country of Origin: USA


Reversed my cavity
"Totally helped reverse a cavity! I've been using this product for about a month now. I had a small cavity behind a front tooth. Since using this toothpaste, the black on the cavity is completely gone and the hole is starting to grow back. I honestly thought this would take months, and I am shocked at how quickly it helped my tooth. My teeth always feel super clean and my mouth is always fresh. I highly recommend this product."

I feel good about the ingredients
"I really like this toothpaste. It makes my teeth feel sleek and smooth after brushing, and I feel the ingredients are more natural and wholesome than your big brand names (Crest, etc..). I feel like each ingredient actually does something beneficial for your teeth, unlike all the "filler" chemicals in other pastes. And you only need a little bit on your brush. Also, it doesn't get overly foamy and get messy like the others. I find myself looking forward to brushing my teeth with it, each time."
---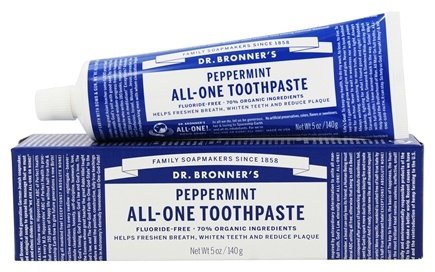 Dr. Bronner's Magic Soaps Toothpaste Peppermint
Dr. Bronner's makes many high quality organic hygiene products. Their toothpaste is also well know and is being carried in more and more health food stores, such as Sprouts and Trader Joe's.  This product is made with 70% organic ingredients, is fluoride free, non-GMO, is vegan and doesn't contain any of the unwanted chemicals or toxins. This product gets amazing reviews and is said to cure cavities and whiten teeth better than main stream teeth whitening products. This toothpaste is on the expensive side, but it probably one of the best toothpaste products on the market.
You can get it here
Key Features:
Dr. Bronner's All-One Toothpaste low-foaming formula reduces plaque whitens teeth and freshens breath

Made with 70 organic ingredients including Fair Trade and organic coconut flour and coconut oil which aid as a mild abrasive

Dr. Bronner's All-One Toothpaste is vegan fluoride-free non-GMO certified NSF certified

Reviews:

I really like this toothpaste
"It is about time Dr. Bronner came out with a toothpaste. I really like this toothpaste. It has a pleasant flavor. I use quite a lot of Dr. Bronner's products. I have reviewed the ingredients and it appears to be chemical free. I have brought some for my daughter also. It will definitely go into Christmas stockings this year. I would recommend this toothpaste."

Fresh peppermint taste without being overpowering
"I have used dr. Bronner's peppermint hemp soup as body/face wash for over 6 years and love it. I figured I would give the toothpaste a try. First of all it is not like regular toothpaste. It does not foam up at all. At first I did not like it but after using for a week I actually like it better. The peppermint is not over powering at all. It is weaker than crest freshmint and has no burn. The after taste is pleasant enough with a subtle hint of peppermint for over an hour. My breath and mouth are fresh without being over powering or annoying like other toothpastes can be. My normal go to toothpaste as been the sensodyne pronamel. The cost of this is usually around $7. Paying a few dollars more for a healthier, 70% organic toothpaste is worth it to me. I will continue to use this toothpaste daily and plan on ordering more whenever this tube runs out. I will update when the tube runs out to give an idea of how long a tube lasts brushing 3 times a day. Overall I would recommend this toothpaste to anyone who is looking to try something different."
---
Cheap Fluoride Free Toothpaste
A big concern when it comes to fluoride free or organic toothpaste is the price increase. Anything that has better ingredients and is healthier for you is obviously going to cost more because the cost of production is also increased. Fortunately for us, by buying our fluoride free toothpaste in a pack of 2-6 we can save money and get our toothpaste for the same price as we were or even cheaper. If you found a fluoride free toothpaste that you like and know you will be using from now on, some of our options below may interest you.
You can also buy in bulk for savings and give your extra tubes to your family or friends, or just have them stocked up and not have to buy again for 6-12 months. I'm personally converting all my family to fluoride free toothpaste because I care about their health and want to see them live a long, disease free life, while still having healthy teeth. Below is our recommended Fluoride Free toothpaste packs for huge savings.
---

Tom's of Maine Antiplaque and Whitening Fluoride-Free Toothpaste
Tom's is probably the most common fluoride toothpaste you can find. It's in stores like Walgreens and CVS. Although, it's fluoride free and better than your name brand toothpastes like Colgate, it is not our recommended first option when it comes to fluoride free toothpaste. That being said, if you still want to purchase Tom's witha  discount, you can buy this 2 pack for only $8! First time buyers also have an option of 20% discount. This comes out cheaper than your larger name brand toothpastes and is much healthier!
---

Nature's Gate Natural Toothpaste – 6 pack for savings
This is an amazing deal for fluoride free toothpaste. Not only do these tubes comes with more toothpaste than your average tube, but by purchasing this 6 pack, you are getting each tube for around $3.50! There is also options for first time purchase discount and subscription discount. If you want your entire family to have fluoride free toothpaste for a cheap cost, then this Nature's Gate toothpaste is the way to go. Made in United States with over 400 positive reviews. This toothpaste in on my personal top 3 list for fluoride free toothpaste.
You can get this 6 pack here
Key Features:
Pack of six, 6-ounce per pack (total of 36-ounces)

Gives you a clean and healthy feeling mouth

Helps promote good oral health

A natural strengthening component of teeth that helps remove plaque

Made in the U.S.A

Reviews: 

Works better than Crest!
"I've been using this toothpaste for about a month now, and I am IMPRESSED! It kept my teeth more white than Crest 3D White! Yes, I'm serious! I love the taste as well! It's a slightly sweet minty taste, almost like a mint candy. I thought getting a non-fluoride toothpaste would mean sacrificing quality, but it's actually the exact opposite! This has kept my teeth so much heather than fluoride toothpaste! I can tell the difference! My teeth are stronger, healthier looking, I'm noticing less plaque! Best. Toothpaste. Ever!"

Great Toothpaste and Ethical Too
"I had ordered this toothpaste because of its reputation for being cruelty free. Been using this for brand for 6 months already without a complaint. Love the taste and "after breath" of the toothpaste as well."
---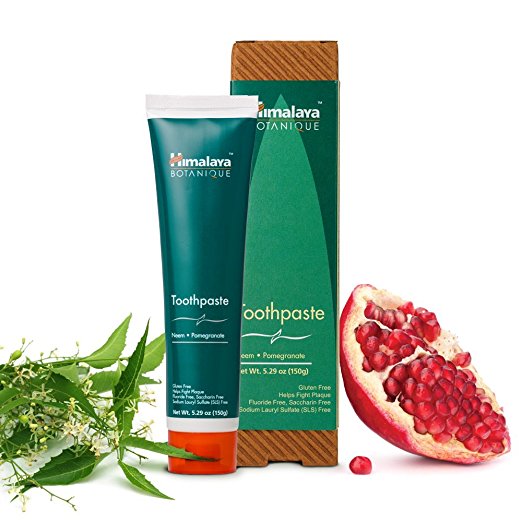 Himalaya Neem and Pomegranate Toothpaste  (4 Pack)
This is my personal favorite fluoride free toothpaste and would recommend it to anyone looking to transition to healthy toothpaste that also has good taste and protects against cavities. This deal is a 4 pack of Himalaya Neem toothpaste and comes out to around $4.50 per tube, which is a great deal for a toothpaste with high quality, natural ingredients. This stuff will have you looking forward to brushing your teeth and best of all, it will improve your health.
---
Conclusion
I hope this article helped you find the right fluoride free toothpaste for you and your family and finally rid your body of fluoride. If you have any questions or would like to add something to this article, please use the comment form below. Remember that getting fluoride out of your toothpaste is just the first step and that getting it out of your drinking and cooking water is the next big step in getting fluoride out of your body.
If you found this article useful, please subscribe to our email list to get notified about other useful topics like this. Thanks for taking the time to read this article and if you know anyone that currently uses fluoride toothpaste, share this article with them.
We appreciate you 🙂